organization/company
Paulcare Development Initiatives
Monrovia, Montserrado, Liberia
Employment
Paulcare Development Initiatives is a transformational and systematic youth visionary organization that seek to educate, empower, equipp and employ through various training program for sustainable development. The organization works with the SDGs goal 1,2,3,4,5 and 7 inclusive of children, youth and young women. We provide educational assistant, medical outreaches, agro preneur initiatives, humanitarian project etc to transform and build our nation . we achieve this through partnership.
organization/company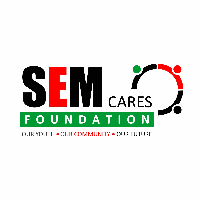 SEM Cares Foundation
Manzini, Manzini, Swaziland
Nonprofit
Objectives of the Organization: To provide insight on education, foundation courses and mentorship services to the youth on the career paths, to make sound decision at an early age. To provide a link and social support services to the youth in order to draw the together to society and create a conducive environment around them. For more info please email: info@semcaresfoundation.org or visit our Website.